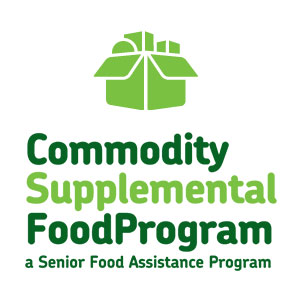 Statistics show that nearly 1 in 6 seniors faces hunger in the U.S.
The Commodity Supplemental Food Program (CSFP) supports the nutritional needs of low-income individuals by providing wholesome food to supplement their diet, while helping stretch their food dollars. The population served by CSFP is low-income seniors at least 60 years of age who are at risk of and vulnerable to malnutrition.
Currently, one partner agency in Middlesex County and two partner agencies in Lancaster County distribute the nutritious, pre-packaged, shelf-stable boxes monthly. Each contains nutrient-rich food that helps improve the overall health status of these individuals.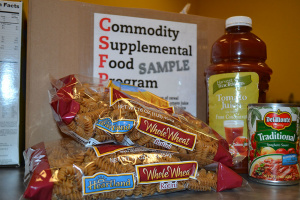 Boxes include a variety of canned items (e.g., fruit, vegetables, meat or fish), bottled juice, shelf-stable and instant dry milk, cheese, pasta or rice, dry beans or peanut butter and cereal.
Please note, participation in Healthy Harvest Food Bank's Feed More's CSFP is open to our partner agencies. Any agency interested in learning more should reach out to Craig Hazzard, Director of Operations, craig@hhfb.org, 804-250-2277.
For more information and facts about Senior Hunger, visit the National Council for Aging Care website:  The Facts Behind Senior Hunger For more information about the CSFP Program visit the USDA website:  USDA CSFP.
Fresh Produce for Seniors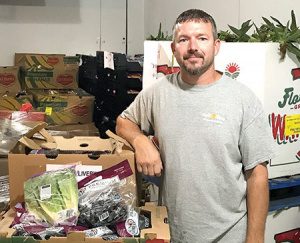 A partnership with Bay Aging and Healthy Harvest Food Bank supplements Meals on Wheels deliveries with fresh fruit and vegetables
Bay Aging and Healthy Harvest Food Bank are partnering to provide fresh fruit and vegetables to Bay Aging's Meals on Wheels recipients. The partnership began in 2019 with weekly deliveries of sweet corn, cucumbers, yellow squash, zucchini, broccoli, pears, grapes, apples, watermelon and more to supplement Meals on Wheels being delivered to Richmond and Essex County residents.  With distribution logistics in place, the program quickly expanded across the organization's shared territory.
Bay Aging staff and Meals on Wheels volunteers deliver over 166,000 nutritious meals to frail, homebound seniors throughout the Northern Neck and Middle Peninsula. Meal deliveries also include friendly visits and safety checks from the volunteers and staff.
For more information on how to receive supplemental food through Meals on Wheels please contact Bay Aging.