Hunger knows no boundaries.  It touches every community across the country, including your own.  One in eight individuals struggle with food insecurity.  Often hunger runs deepest in rural farm communities like ours that work hard to feed us.
Hunger pains are sharp regardless of your age.  No child, family or senior can thrive on an empty stomach.  Our concept is simply people helping people but with your help, we can do more!  Join us in the fight against hunger and help us make a bolder impact in our community by educating and empowering our clients to live better, healthier lives!
At Healthy Harvest Food Bank 94% of our operating expenses go directly to feeding those in need locally.
We serve over 7,600 individuals every month in the Northern Neck and Upper Middle Peninsula;
We provide weekend meals to children most at-risk for hunger through area schools;
We distribute well over half a million pounds of fresh produce from local farmers each year locally and across the state of Virginia
How can you help and receive the benefit of having your logo visible across the state of Virginia?
By joining other businesses in our six-county region as a corporate sponsor on one of our refrigerated box trucks!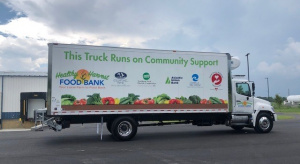 Corporate sponsorship is critical to the success of Healthy Harvest Food Bank, helping us reach our goals while inspiring others to give.  We are pleased to offer five (5) sponsors on  two of our two refrigerated box trucks and four (4) sponsors on our third refrigerated box truck.  By becoming a sponsor your logo will be prominently displayed on two sides of one of our trucks, making your commitment to end hunger visible in our six-county service area and throughout eastern, central, and western Virginia.
Our trucks are visible every day, making over 500 deliveries annually to our pantries and feeding sites, collecting grocery and fresh produce from local businesses or in the fields transporting fresh produce during gleaning and harvesting season.  Our trucks also participate in food drives and parades in our six-county service area.
In addition, through our signature Agricultural Program, our trucks are seen in Richmond, Hampton, Norfolk, Fredericksburg and Charlottesville delivering fresh healthy produce to those in need across the state!
The time-line for sponsorship begins when the wrap is completed on the truck for a two-year period.
Consider putting your logo on one of our three refrigerated box trucks:  Logo on two sides $2,500 per year. $5,000 commitment over two years
Contact Cindy Balderson at 804-250-2277 or cindy@hhfb.org to become a sponsor!