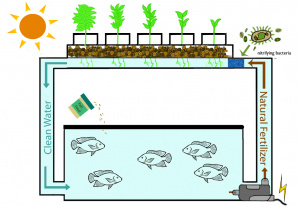 Aquaponics is a combination of hydroponics (growing plants in water without soil) and aquaculture (growing fish and other aquatic animals) that creates a sustainable, self-sufficient system. It is becoming more and more popular as we search for more sustainable food production methods to feed the world's ever-growing population. So, how exactly does aquaponics work?
Aquaponics systems work through a symbiotic relationship between the plants and the fish. The fish and plants are kept in separate tanks, connected by a filtration system. The fish produce waste in their tank which microbes and bacteria break down. A pump then carries the water, now full of nitrates, from the fish tank to the plant tank. The plants absorb the nitrogen from that water, simultaneously feeding the plants and cleaning the water. The clean water is then pumped back into the fish tank and the cycle starts over again.
Put simply, the fish provide nutrients for the plants through their waste, the plants absorb the fish waste and clean the water, and the clean water is then pumped back into the fish tank.
Aquaponics systems provide many benefits since they are fairly easy to set up and require little maintenance afterward. They provide a sustainable alternative to normal protein and plant production methods, allowing farmers to grow plants using less water and farm fish in a responsible, sustainable way using fewer resources.
Aquaponics systems can also be located outdoors, indoors, and in greenhouses, giving farmers the ability to control the environment and conditions surrounding the crops and fish. This allows farmers to grow crops year-round, especially in colder areas, yielding more food that wasn't possible before.
At Healthy Harvest Food Bank, we are investing in more sustainable food production methods with Healthy Harvest Fresh, our upcoming aquaponics educational center. This will be an innovative approach to teaching future generations sustainable, healthy food farming while increasing our capacity to produce food for the communities we serve. We rely on donations and volunteers to continue our crucial work providing food to over 8,700 people a month. Find out how you can get involved and help feed those in need today!