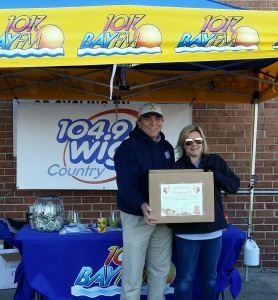 Organizing a food drive is an easy way for you to help make a difference in your community. It simply requires coordination, a few supplies, people to help you out, and the desire to help a local food bank feed the hungry.
Here are the steps to organize a food drive:
Choose a Food Bank to Donate To - First, find a local food bank you would like to partner with and ask them about their preferences for food drives. Do they prefer virtual food drives or in-person food drives? Are there any foods they don't accept? What foods are they looking for most? Will they pick up the food donations at the end of the food drive or will you need to drop them off? Making sure you are on the same page with the food bank you are donating to is essential to hosting a successful food drive that will benefit the greatest number of people.
Set a Goal - Next, set a goal for the amount of food you hope to collect during your food drive. This goal will help determine other parts of your food drive plan, such as how many people you will need to help, what supplies you will need, and how much food the food bank can expect from you.
 Decide When and Where Your Food Drive Will Take Place - After you've set your goal, figure out the location your food drive will take place and how long it will last. Will it be at a school, a community center, or a church? Will it last a day, a week, or two weeks? Generally, food banks recommend running a food drive for two weeks, but you can choose the amount of time that works best for your situation.
Recruit Volunteers - After you've figured out when and where your food drive will take place, it's time to start recruiting volunteers. These will be individuals who help you during every part of your food drive, whether that means collecting food, advertising, setting up, or even delivering the food.
 Promote Your Food Drive - Promoting your food drive is the next step to hosting a successful event. Use posters, flyers, posts on social media, emails, and texts to raise awareness for your food drive and include all important information, like "items accepted." Be sure to post reminders leading up to the start of your collection period so people don't forget.
Collect the Donations - Now it's time to collect the food donations for your food drive (these will be monetary donations if you are hosting a virtual food drive). Continue to collect food for as long as your food drive lasts, making sure to store it in a safe, dry place.
Give the Food to Your Chosen Food Bank - Once your food drive is over, it's time to give all of the donations you've collected to your local food bank. Either deliver it directly to them or have them pick it up at a specified location based on your initial plan.
At Healthy Harvest Food Bank, we operate as the local farm to food bank to help solve hunger in Virginia. We provide hope in the communities we serve through the right food and education as part of our core programs. Both in-person and virtual food drives are vital to our success as we rely on donations and volunteers to continue our crucial work providing food to almost 9,000 people a month. Find out how you can get involved and help feed those in need today!