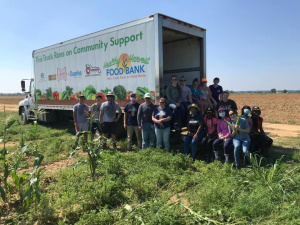 Many nonprofit organizations and charities rely on volunteerism, which is the use of volunteer labor, to perform their crucial tasks in helping people and communities. While many people often think of volunteering as a way to get community service hours or help those in need, there are actually many other benefits, including:
Help Others - The main benefit of volunteering, as mentioned above, is helping others in need. Giving your time and energy is worth it because you are making a difference in the lives of others.
Meet New People - Volunteering also gives you the opportunity to meet new people, make new friends, and bond with one another, all while working together to make the world a better place.
Get Active - Many volunteer opportunities involve running around, loading, lifting, or some other type of physical movement, so they can be a great way to get active and improve your own physical health while helping an organization carry out its mission.
Become Part of a Community - When you volunteer, you become part of a community with those working at the organization, other volunteers, and even the people you are working to serve.
Learn New Skills - Volunteering also presents you with the opportunity to learn new skills that you didn't have before. For example, if you volunteer at a pet shelter, you could learn how to interact with animals, care for them, and groom them.
Feel Good About Yourself - Another benefit of volunteering is that you feel good about yourself because you are doing important work and making a difference in other people's lives. This helps to boost your confidence and self-esteem, both of which are important for your own mental health.
At Healthy Harvest Food Bank, we operate as a local farm to food bank to help solve hunger in Virginia. We provide hope in the communities we serve through the right food and education as part of our core programs. Volunteerism is vital to our success as we rely on donations and volunteers to continue our crucial work providing food to almost 9,000 people a month. From June-December, we'll need even more help from volunteers with our gleaning and harvesting efforts. Find out how you can get involved and help feed those in need today!