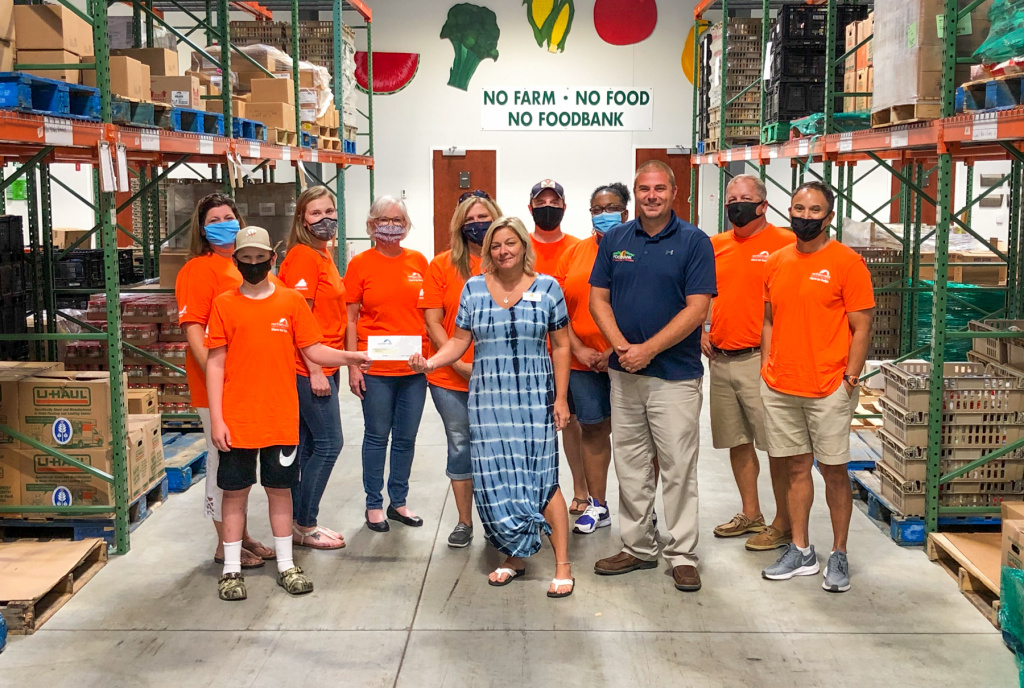 September 9, 2020
Northern Neck Insurance JOINS Healthy Harvest TO IncreaseEmergency Food Supply During HUNGER ACTION MONTH
Local donation is part of a $175,000 investment in Virginia's Food Banks
Irvington, Virginia – One of the terrible impacts of COVID-19 is that thousands of Virginians no longer have enough food to feed their families. Job losses and school disruptions across the state have resulted in a dramatic increase in demand at the state's food banks.
To help meet this need, Northern Neck Insurance has pledged $25,000, plus additional volunteer support, to Healthy Harvest Food Bank in Warsaw to expand the local emergency food system. The donation is part of the company's statewide COVID response totaling $175,000 to Virginia's food banks.
"In times of need, local communities pull together," said Peter Cammarata, President and CEO of Northern Neck Insurance. "COVID has created food insecurity for far too many Virginians and we are grateful that we can help the state's food banks fill the gap, including here in the Northern Neck. We encourage anyone who is able and interested to contact their local food banks to learn how they can pitch in."
The donation will be matched as part of Healthy Harvest's current $2.6 million capital campaign. "Nobody should go hungry and we are grateful for the support of Northern Neck Insurance and so many others in our community who are stepping up for our local families who face food insecurity," said Mark Kleinschmidt, President and CEO of Healthy Harvest.
Unfortunately, hunger is an issue in every Virginia community, especially now that COVID has significantly increased demand at food banks across the commonwealth. In response, Northern Neck Insurance has pledged of $150,000 to the Federation of Virginia Food Banks to help fund two statewide programs, including "We Care" food boxes which are currently being distributed to families throughout the state. The company is also helping to expand the supply of fresh produce available through the food banks by covering the costs of additional refrigeration. "Thousands of families around the state will receive nutritious meals because of Northern Neck Insurance's commitment to community," said Eddie Oliver, Executive Direct of the Virginia Federation of Food Banks.
To learn more about Healthy Harvest Food Bank, visit hhfb.org. The Federation of Virginia Food Banks is online at virginiafoodbanks.org.
Northern Neck Insurance is a Virginia-only insurance company powered by local community. A mutual insurer since 1896, Northern Neck insures tens of thousands of Virginia households, protecting homes and vehicles throughout the commonwealth.